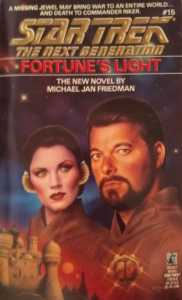 This week, while Riker plays undercover spy, Data plays third base. With the Priority One message not going to him and having to put the Enterprise in park in case Riker gets deep in it, Picard isn't quite sure what to do with all this free time. How did Riker get into jazz? How would this book be different if Data read the Baseball Prospectus? What did Michael Jan Friedman get right and wrong about the state of baseball in the 21st century? It's the book that's handed out for free by the Church of the Center Field Bleachers.
Fortune's Light
Author: Michael Jan Friedman
Pages: 278
Published: January 1991
Timeline: Between "The Offspring" (S3E16) and "Sins of the Father" (S3E17)
Prerequisites: None
A Priority One message comes in—but it's for Riker, not Picard. Starfleet wants him to go to Dante Maxima VII, a.k.a. Imprima, to track down his friend Teller Conlon. Riker and Conlon used to hang there in their Academy days, but Conlon stayed and became a liaison for the Federation. He now stands accused of stealing the jewel-encrusted seal that gives the book its title, and Riker, knowing Conlon well and being familiar with the area, is dispatched to go undercover and investigate. Riker hopes to exonerate Conlon, but hasn't checked in on him in a minute, and is incredulous of reports that his friend has a new-ish side hustle as a petty smuggler.
As Riker goes planetside, he encourages Data to check out a holodeck program he left running. Said program turns out to be a baseball game from the 21st century, a contest between the Fairbanks Icebreakers and the Phoenix Sunsets, in which Data plays the role of Bobo Bogdanovich, the player who, according to the annals of history, recorded the final out and ended the Icebreakers' playoff run. Although initially confused by the appeal of the game, its strategic component, and his manager's foul temperament, Data decides to ride it out and see if he's capable of getting enough of a grasp on the game to alter history.
These are our two stories this week, and never the twain shall meet, except for an off-handed reference to Fortune's Light during the baseball game that may briefly lead you to believe that Data may apply some of his new baseball knowledge to Riker's scenario (never happens). Needless to say, I feel like mileage will vary wildly on this one. Perhaps I'm wrong, but I don't think most people, or at least most Star Trek fans, get excited for both political espionage and baseball. One or the other, perhaps, but likely not both.
Making a full fifty percent of this book about baseball seems to me a rather hefty gamble. Don't get me wrong: baseball and Star Trek are hardly unusual bedfellows. I actually think there's more overlap between the two fandoms than may seem apparent at first glance, and I think people who effortlessly understand complex game rules in their own favored pursuits but feign confusion when it comes to sports and distance themselves from it with goofy non-words like "sportsball" are hypocrites. But expecting people who have signed up for sci-fi action to commit fully half their invested time to an historic (fictional) playoff game is an awfully big ask. Conventional wisdom has long held that attending a live game is the optimal way to take in the sport, and that watching it on television pales in comparison. Well, if you're already uninterested in watching it, imagine reading about it. Thankfully, I like baseball enough that the plot held my interest, but I'd be totally sympathetic to anyone who opted out of this book knowing they were in for a lot of it.
And it's quite a good thing I like baseball as much as I do, because without it I'd probably have found this book an interminable slog. I speculate that I may be in the minority among people likely to read this book, but procedurals and political thrillers are not really my jam (though I suppose I'd better start acquiring a taste for them by the time we reach late-era DS9 and Section 31). But the truth is, the Riker half just did not grip me all that much. His partnership with Lyneea Tal, a retainer of one of the madraggi,1A curiously under-explained term for the obscenely wealthy people who rule Imprima and maintain their rule by making innovative strides in the field of acquiring more wealth. Riker makes a few snide comments about it that mirror my feelings about them, but everyone on Imprima considers it perfectly normal and is super chill about it. They're all shocked and appalled when the villain turns out to be in cahoots with the Ferengi—or perhaps more accurately, a Ferengi—but really, it's a wonder they all aren't. develops naturally and nicely, and I liked the way she slowly came around on him. But the Teller Conlon stuff left me cold. We get to know him a little bit through flashbacks, but it's really hard to drum up sympathy for these original characters the instant they're foisted on you.
No matter what kind of reader you are, Fortune's Light is bound to have something that's not for you. But it's not bad, especially compared to Friedman's previous output to this point. Even if baseball bores you, it can be fun to watch Data try to wrap his mind around new concepts, and obviously if you like Riker, it delivers. It's decent, if not terribly memorable. But the average quality of these books is starting to rise, and "not terribly memorable" is bound to get a book left in the dust a lot faster nowadays.
MVP & LVP
My MVP this week is Riker. Dude takes a lickin' and keeps on tickin', and his Kirk 2.0 shtick plays a lot better when he's got to put in the time to make the charm work. By the time he gets that alien strange on the very last page, he's really earned it.
Some characters actually don't show up at all this week, but of those that do, I'm giving the LVP to Picard. He seems a little weirdly jelly that the Priority One message isn't for him, and he tries to feign interest in Data's baseball game but isn't really that into it. Picard is the dad who leaves the game in the seventh inning because he has work tomorrow and wants to beat traffic. That person always sucks.
Nuggets & Other Stray Bits
Friedman showed some real restraint this time: not a single apostrophe'd alien name in sight!
At the time this was posted, a new baseball season kicked off only a week prior. My parents went to the Rangers' opening day game—the final one at (ugh) Globe Life Park.2 They lost 12–4. As usual, it's probably going to be a long year in Arlington.
Since Friedman dares to speculate on the state of Major League Baseball in 2026, one can't help but see which of his prognostications bore out and which ones didn't. Let's run the voodoo down:

p. 80: "A series of bitter and protracted labor disputes, beginning in 1981 and escalating shortly after the turn of the century, gradually eroded the popularity of the sport." — Incredibly, this one is actually mostly true. As of this writing, the relationship between Major League Baseball and its Players Association is rather fraught, and many are wondering if another strike (like the one that cut the 1994 season short) is imminent. However, baseball is steadily making improvements—mostly related to the pace of the game—that show it may finally be willing to stop fetishizing its own past so much if it means getting butts in seats, and which are actually currently increasing the popularity of the sport. Still, big thumbs-up for mostly nailing this one.
ibid.: "What is more, sharp increases in ticket prices denied large segments of the population access to the games." — This is both correct and not. While prices have increased steadily rather than sharply over the past decade or so, they're still outpacing increases in median wages and cost of living. It's hard to help feeling at least a little bougie sitting in even halfway decent seats, to say nothing of enjoying a game from a suite (which I did for the first time in my life last year—entirely on someone else's dime, natch).
ibid.: "Surveys in the year 2019 indicated that the body of baseball enthusiasts was less than half the size it had been two decades earlier." — This, to me, seems difficult to properly quantify. For one, you have to define what level of fandom qualifies one as an "enthusiast", and perhaps whether you mean amateur or professional. The fragmentation of the monoculture also reduces the likelihood of a ton of people all being interested in the same things. Also, even if the number of enthusiasts is decreasing, the people who are still into it are still way into it. Sabermetrics, which at the time of Fortune's Light's publication was still pretty much exclusively the province of wonks and anyone similarly obsessed with numbers, has completely changed the face of statistical analysis and upper-management decision-making. So I'm not certain size matters here so much as quality, or intensity.
ibid.: "In the period from 2018 to 2023, four teams bankrupt and another eight changed hands a total of nineteen times." — Friedman was not quite as prescient here as in his assessment of baseball's labor practices. Despite the sport's reputation for having trouble attracting an audience, current commissioner Rob Manfred's efforts to draw new young fans to the sport have borne fruit. Also, only six teams on Forbes' 2018 valuation of MLB teams had a negative operating income, and only one team thus far has changed hands in the given time frame, when businessman Bruce Sherman purchased the Miami Marlins in 2018 for $1.3 billion.
"Phoenix Sunsets": At the time Fortune's Light was published, neither Arizona nor Alaska had a baseball team, but the former would soon become home to the Arizona Diamondbacks, who began play at the beginning of the 1998 season. As of 2019, the Arizona Diamondbacks and the Tampa Bay Rays remain the most recently added teams.
p. 81: "…which would go on to face the National League's San Diego Padres in the World Series." — If you know anything about the last couple decades of the franchise, then you know this is a LOL-and-a-half, though they did just pay out the nose for Manny Machado. I suppose there's always a chance he could take on a leadership role in the clubhouse, at least if he cuts down on the antics and remembers not to say the quiet part loud.
Overall, Friedman falls squarely in the "baseball is dead as a doornail in the future" camp. While it's barely a stretch to imagine no one will be playing baseball in any sort of organized major-league capacity in 350 years, the current direction of the sport hardly calls for doom and gloom. If the aforementioned labor disputes result in another strike, however, there's a very real chance that the league might not be able to recover from the subsequent fan exodus. Time, as always, will tell.

Fortune's Light opens with a fascinating bit of lore expansion, attempting an explanation of how Riker got into jazz. When he fractured his collarbone while rock climbing and had to stay shut up in his room while the other kids were outside playing, his mother took the time to inculcate a love of Dixieland jazz. What the book doesn't say, however, is that he also broke a leg in that rock climbing accident. We know this because, incredibly, I was able to dig up a picture (below) of Teller Conlon's signature on his leg cast, though it appears he got a little distracted.

p. 22: "'To the art of the … something" — Until the full saying turned out later to be "the art of the possible", I had a gross suspicion that this was an Art of the Deal reference, which I've got less than zero time for in my Star Trek.
p. 77: A literal Ten Forward toast!
p. 159: This is just a wonderfully weird paragraph I could roll around and snuggle up in: "Just after the end of the twentieth century a Californian by the name of Ray Sparrow, who identified himself as a priest in the Church of the Center Field Bleachers, speculated that the [curveball] performed as it did because the ball's spin approximated that of the free electrons in the Mind of God."
Final Verdict
I give Fortune's Light 2.5 out of 5 game-winning home runs. Your mileage will vary greatly on this one depending on how much you like or dislike political espionage and/or baseball; a median rating seems appropriate. Clearly, given how much time and research I devoted to the latter, you can tell which way my brain went.3I literally wrote all the baseball stuff first. Still, despite inconsequential holodeck shenanigans and a boilerplate espionage plot, I found it a little more engaging than the rest of Friedman's books thus far. I still don't find his stuff as good as his reputation would suggest, but it's slowly getting there.
NEXT TIME: Kirk is banished to the phantom zone in Ghost-Walker