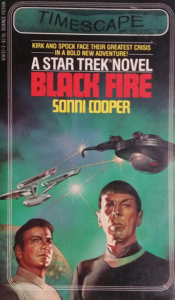 Some of these early Star Trek books have unctuous introductions that tell tall tales about the authors and lavish heaps of sickly-sweet accolades on them. Black Fire is one of those books. Its introduction was written by Theodore Sturgeon, a man of myriad science-fictional accomplishments, the most relevant of which for the purposes of this review are that he wrote the indisputably top-five TOS episode "Amok Time" and that he coined an axiom known as Sturgeon's Law, which famously states that 90 percent of everything is crap, a figure some might argue is conservative when it comes to Star Trek novels.
Fluff jobs like these are a risky gambit that, to my way of thinking, don't really have much of an upside. If the book sucks, the intro writer ends up with pie all over his face, and if he talks up the author and the book ends up being all right or good, the net gain is negligible. It's not like it somehow reaffirms the strength of the mythos.
What I mean by all of this is: for a guy with credentials like Sturgeon's, he sure picked a heck of a book to stick his neck out for.