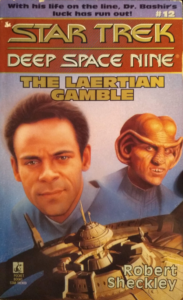 This week, when Bashir agrees to gamble on a telepath's behalf, he breaks more than just the bank. When entire ships and moons start disappearing, Dax and Kira have to wrestle with the forces of chaos itself to bring them back. What's the deal with Complexity Theory? What are Ferengi priests like? And is the closest point of comparison for this book really that episode? All this and more in The Laertian Gamble, the book that's brought to you by Meat Product 62!
The Laertian Gamble
Author: Robert Sheckley
Pages: 273
Published: September 1995
Timeline: Between "Explorers" (S3E22) and "Family Business" (S3E23)
Prerequisites: None
Back in the earliest days of this site, one thing we learned fairly quickly was that being a good science fiction author doesn't necessarily mean you'll make a good Star Trek author. The skill sets, the ultimate aims, are different. Science fiction at large is more about conceptual development: tackling big ideas of powerful thematic resonance, exploring them at length, and dressing them in technology we barely have the capacity to imagine. While Star Trek does that as well, and does it well, I think in its case a somewhat bigger draw is creating a world you want to live in populated with characters you want to hang out with. A name like Robert Vardeman or Greg Bear might be considered something of a big "get", but if they don't understand, say, the rules that govern a given series's particular universe, or a certain crew's dynamic, camaraderie, and cadence of their interactions, their strengths are going to get lost among the failure to capture that, and their effort is going to fall flat.
You'll never get bigger than guys like Theodore Sturgeon and Harlan Ellison writing for TOS, but Robert Sheckley may well be both the most prolific and most celebrated sci-fi author to dip his toe into literary Trek waters. Sheckley's bibliography is longer than a CVS receipt, and is populated largely by absurdist, comedic short stories.1Other than this book, the only thing I've read by him is "Shoes", a short story published in 2002, well outside his career peaks in the 50s and 60s, which showed up in a sci-fi anthology one of my coworkers brought to work. I don't remember much about that story, aside from a vague recollection that it seemed to not really have an ending. Unless you have a special constitution for it, absurdism is typically best taken in small doses, like the exact sort of short story Sheckley built a six-decade career on. However, you might have noticed that The Laertian Gamble is not a short story, but in fact a novel. And not just a novel, but one hailing from a franchise a touch more strait-laced than your average comic farce. The Laertian Gamble is pretty rancid whether or not you're aware of Sheckley's milieu—I read it not long before starting this website, not knowing anything about the man—but armed with the facts, you'll at least better understand why.
Dr. Bashir is bored out of his gourd when he sees Quark escorting a woman who tripped an anti-telepathy device off his premises. The woman, whose name is Allura, easily cajoles Bashir into gambling on her behalf. She's eager to manifest a lucky streak she claims is "long-awaited" by her people, and believes she may be able to transfer that luck through a proxy. She tells him to keep playing until either she or the house is completely wiped out. Julian, too tantalized by the ta-tas to really think through the whole idea, agrees to the arrangement, even going as far as to sign off on it in writing.
Almost immediately, and without really even knowing how to play the game he's playing, Bashir hits a hot streak. Quark isn't worried, per se, but he's more than ready to see Julian post up an L. But the W's won't stop, and before long the doctor cleans Quark out. Bashir and Quark are prepared to call that the end of the game, but Allura isn't, and she has backup from Gamemaster Heimach Schin, a Laertian official who shows up in a superdreadnought to force the game's continuation. Bereft of funds, Quark starts putting personal possessions (his and others') up for ante. Julian's luck doesn't change a bit, and the Laertians start making off with pieces of the station.
Eventually, Julian's streak becomes so unnatural as to begin disrupting the universe itself, causing ships, people, and celestial bodies to vanish without a trace, at which point Sisko dispatches Dax and Kira to Laertes to figure out what's going on. The book never makes much sense to begin with, but this is where it really starts to break down, with Dax helping a scientist build a reality-bending contraption called a "chaos machine" to help solve the problem and Kira getting stuck in an especially grim and thankless bit of comedic run-around that triggers flashbacks to How Much For Just the Planet?, except without the musical numbers.
Arthur C. Clarke famously said that any sufficiently advanced technology is indistinguishable from magic. I would offer a similar axiom: any insufficiently explained science is also indistinguishable from magic. So it is with Complexity Theory, the thoroughly meaningless buzzword the Laertians claim is behind Allura's wild winning streak, which she's using to skew an election so that her people, who never win elections, win it. (But practically everyone else among her people is perfectly content to never win elections, so why does she have such a bee in her bonnet about it? Good luck finding a good reason.) What is Complexity Theory? It's the scientific phenomenon that undergirds all activity on the planet Laertes. Yes, yes, and how does it work? [crickets] 
When I say that this book offers no explanation for how Complexity Theory works, I mean absolutely none. Technobabble can definitely get pretty goofy, but whether it succeeds in suspending disbelief or it fails, it at least tries. This book does not even put in that most basic effort. Manipulating probability is an intriguing, if tricky premise, but I've seen it done well—the 2001 Spanish film Intacto comes to mind. It's a premise Sheckley quickly proves unable to develop meaningfully or take as seriously as something like Star Trek demands. And so as it slips from his grasp, you can see him retreat to a mode he knows, i.e., absurdism. That's how we somehow get from the comparatively normal situation of a woman using Bashir to metaphysically sway an election to one of Dax's old mentors literally popping out of a machine to offer her a clue to her predicament.
I've long believed that Star Trek is good at humor but bad at comedy, and that wackiness ill fits it. Despite what a colossal mess this book is, however, I'm actually somewhat interested in checking out some of Sheckley's more representative work. Clearly, he was something of an elder statesman of comic sci-fi, and I'm certain he's got some great work worth diving into if I know which direction to start looking. Here, though, we have a case of something we haven't observed in quite some time: an established author holding a square style peg who tries to cram it in to a round Star Trek hole. That simply does not work. If you want to play in the Trek sandbox, you gotta come correct.
MVP & LVP
My MVP this week is Odo. You might wonder how that is since I haven't even talked about him any. He barely appears in this book, and his brand of order doesn't mesh with the kind of shenanigans happening here. That said, I feel like it would be inaccurate to say anyone really "does" anything in this book—it's more like they're all thrown in a hurricane and allowed to land wherever the wind puts them down. By dipping for the bulk of the story, Odo escapes with his dignity intact, and that's no small victory.
There are a handful of folks who could handily walk away with the LVP award this week—most notably Bashir, for thinking with the wrong head—but I think it has to go to Quark, who, by capitulating almost instantly to Laertian terms and interpretations of law, hampers Sisko's ability to help him out. Quark, my dude! Sisko could have stalled the Laertians long enough to get in a fleet that would have sent them back through the wormhole with their tails between their legs. Don't you believe in the Emissary, O ye of little faith??
Nuggets & Stray Bits
Let me get ahead of one issue real quick: I'm aware of the irony of asking an absurdist story to make sense. Nevertheless, I think at least a tiny bit of internal logic is not that imposing a request.
The Laertian Gamble crams a whopping 73 chapters into the usual 270-odd pages, averaging a length of roughly 3.75 pages per chapter.2 It's tough to decide whether I liked this deviation in structure or not; a lot of the chapter breaks are of questionable utility, but I did kind of appreciate having an easy stopping point close at hand at almost all times.
It will probably do this book no favors in the minds of many to note that the episode The Laertian Gamble has the closest kinship with quite likely is "Move Along Home". Allura's people, the Lampusans—one of two humanoid races on Laertes, another bit of unnecessary convolution that hurts the book more than it helps it—are rather similar to the Wadi, only if they were inveterate gamblers instead of board game wonks, and also a lot more dangerous. While we're here, let it be a matter of record, if it isn't already, that I actually sort of like "Move Along Home"; it is not, as many like to claim, the worst episode of Deep Space Nine, or even of season one, and it actually establishes a very important character trait for Quark (namely, that he will go to bat for his friends when the cheese really hits the chili).
Of his experience writing The Laertian Gamble, Robert Sheckley had this to say: "I think I did all right by Star Trek, since my editor asked me for little in the way of revisions." Now, I merely speculate here. But I think a large part of what's going unsaid here is that the editor gave it one pass, had no idea what the thousand-year f___ they were reading, decided far be it from them to step to a living legend, and put it through with few if any changes. Again, only speculation. But it feels pretty solid to me.
One character is a Ferengi priest named Olix, who hails from the order of the Charismatic Fathers of Profit and Loss. A mildly amusing concept, though not one that bears much fruit.
The Laertian Gamble is set right around the time Julian starts coming to terms with the reality that he and Jadzia will never be an item. He's perfectly magnanimous about it though, right?

"Maybe it has something to do with her having been a man … That cramps my style."

Sheck-dawg. Robbie. Bruh.
(pp. 2, 3)

"His partner, Dane Whittier, was reclining on the acceleration couch, eating from a can of Meat Product 62, burrito-flavored soy protein, and wishing space modules had replicators." — That name makes it sound a lot like one of Data's feline supplements. A sufficiently dehumanized name, though it does create a beautiful opening for the excellent phrase "can of burrito" one page later. (p. 75)
Final Assessment
Terrible. Much like me in real life, The Laertian Gamble hides behind a guise of comic absurdity to mask the fact that it has no idea what it's doing. Robert Sheckley is in all likelihood not a bad author, but he made a mistake we've seen a handful of times before—i.e., trying to graft his signature style on top of Star Trek without significant alteration, assuming it will be a pain-free ordeal. Unfortunately, the pain is in fact very much real and plentiful. Naturally, the hallmark of absurdism is that it's not obligated to make any kind of what we would traditionally call sense, but of course that does nothing to make this book any better or more palatable.
NEXT TIME: Violations